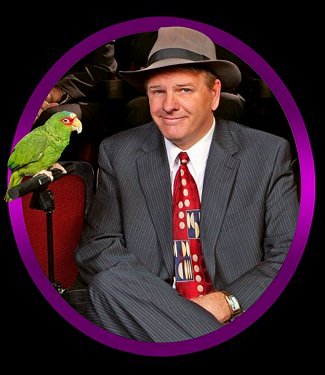 August 9th, 2021
Tickets: Just $25 each
Call: 661.809.4826 or 661.587.3377
Ron Saylor and "Celebrities Of Magic" present DANA DANIELS Live in Bakersfield, Monday, August 9th, 7:30pm at The Gaslight Melodrama.
DANA DANIELS, accompanied by his Psychic Parrot, LUIGI (Yes, a Psychic Parrot!) perform incredible magic blended with rapid-fire Hilarious Vaudeville style comedy, packed with audience participation.
DANA DANIELS is one of the Best Comedy Magicians on the planet. You will be Laughing Out Loud at this event.
You've seen DANA DANIELS at The Golden Horseshoe at Disneyland, on America's Got Talent, on Masters of Illusion, and at The Magic Castle in Hollywood. But, Now he's coming to Bakersfield!
DANA DANIELS' clean, family-friendly show is Perfect for The Gaslight Melodrama Theatre stage.
Do Not Miss this Very Rare opportunity! DANA DANIELS, One Night Only, Monday, August 9th in "Celebrities of Magic" at The Gaslight Melodrama, Bakersfield. The show starts at 7:30pm. All seats $25. All Ages Welcome. Call now: 661.587.3377
Our utmost concern is for the health and safety of our audience, performers and workers.
We continue to follow the CDC's and Health Official's guidelines, and appreciate your support in achieving this goal.