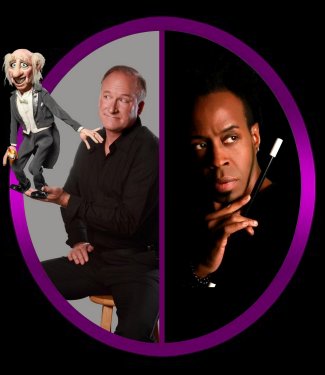 November 13th, 2017
Tickets: Just $25 each
Call: 661.809.4826 or 661.587.3377
Las Vegas Entertainers SCOTT LAND and MONDRE' will be appearing Live in Bakersfield on November 13th.
SCOTT LAND is an amazingly talented puppeteer, most famously known for "Team America: World Police". Yeah, he's that guy!
SCOTT LAND brings his characters to life like no other. A shy little clown will tug at your heart-strings. Dancing skeletons will haunt you. And, you might even catch the celebrity appearance of Michael Jackson.
SCOTT LAND is the Only puppeteer performer of The World Famous Magic Castle in Hollywood.
MONDRE' has been called one of the smoothest practitioners in the art of magic. He has wowed audiences on television and in theatres in Australia, Greece, Switzerland, Bermuda and across America.
MONDRE' has received numerous honors including the "Grand Prix Magiques de Monte Carlo" and the "Siegfried and Roy Bronze Lions Head" award.
Now, You can see them Together in One Show, SCOTT LAND and MONDRE', here in Ron Saylor's "Celebrities Of Magic".
One Night Only, Monday, November 13th, 7:30pm at The Gaslight Melodrama. Tickets are still just $25. Reserve your Seats Now: 661.587.3377