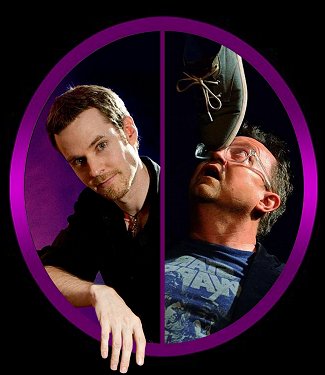 July 11th, 2022
Tickets: Just $27 each
Call: 661.809.4826 or 661.587.3377
Ron Saylor and "Celebrities of Magic" Present STEVE OWENS and MICHAEL RAYNER, Together in One Show, July 11th at the Gaslight Melodrama!
STEVE OWENS is a favorite at The World Famous Magic Castle in Hollywood. His Manipulation Magic is unequalled and his Shadow Magic will spark memories from your earliest childhood.
STEVE OWENS' Award Winning Magic has amazed audience all around the Globe, and it is no wonder that Steve is both a People's Choice and Most Novel Act award winner.
MICHAEL RAYNER is a Stand-Up Comic and Juggler that has appeared in countless Theaters and Clubs across America.
MICHAEL RAYNER is so funny and so good, that you will be caught between laughter and amazement. And, just wait till you see his balancing cheeseburger!
Seeing STEVE OWENS or MICHAEL RAYNER perform separately would have been enough. They are both Outstanding Performers. But this is Celebrities of Magic's 22nd Season, so you get Both in the Same Show!
ONE AMAZING NIGHT ONLY, July 11th, 7:30PM, at the Gaslight Melodrama. All Seats just: $27. All Ages Welcome. Always Family-Friendly. Tickets On-Sale Now. Join the party! Invite your friends! Reserve your seats at: 661.587.3377