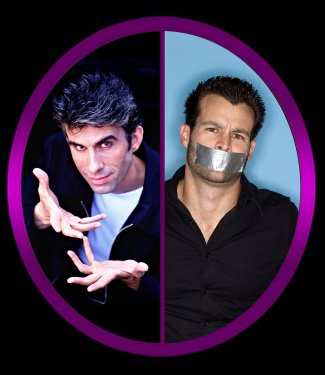 December 10th, 2018
Tickets: Just $25 each
Call: 661.809.4826 or 661.587.3377
Merry Christmas Bakersfield! On December 10th, "Celebrities of Magic" is Bringing you a Spectacular CHRISTOPHER HART and IVAN PECEL Holiday Season Show!
Seeing CHRISTOPHER HART or IVAN PECEL perform separately would have been enough. They are both Outstanding Performers. But it's Christmastime, so in the Spirit of Giving, you get Both in One Show!
CHRISTOPHER HART has made numerous television and film appearances including being featured on "Idle Hands", "Angel", "Masters of Illusion", and most famously in "The Addams Family".
CHRISTOPHER HART, after an extensive audition and interview process, was accepted into the Magic Castle's elite junior program at the age of sixteen. He has since performed for Michael Jackson, Johnny Carson and Muhammad Ali, to name a few. He even worked for David Copperfield early in his career, but now headlines his own show.
IVAN PECEL is a World-Class Juggler that adds his Hilarious sense of humor to everything he does. It's Juggling, High Energy and Comedy all rolled into One!
IVAN PECEL brings Audience Participation to the next level. Bring your Kids and Cameras. You may just capture an indescribable image. You will see it, and still not believe it.
ONE AMAZING NIGHT ONLY, December 10th, 7:30PM, at The Gaslight Melodrama, Bakersfield. All Seats just: $25. All Ages Welcome. Always Family-Friendly. Tickets On-Sale Now. Reserve your seats at: 661.587.3377.